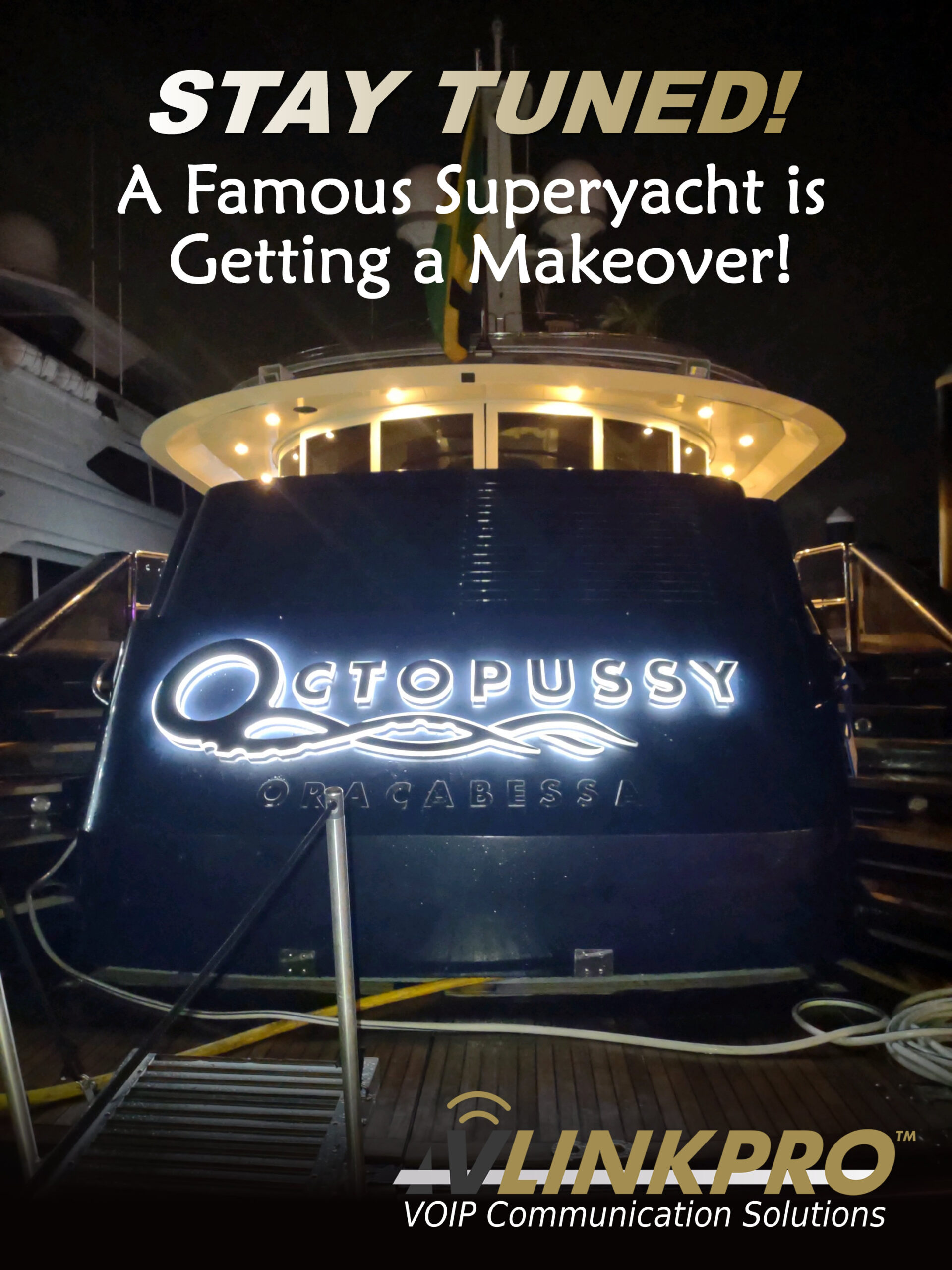 ‍AVLinkPro Enables Intercom Communication on the Infamous SuperYacht:Octopussy
A Superyacht renovation is in the works… The infamous Octopussy built by Heesen Yachts has been recently slated for a next-gen makeover of it's AV and smart home control systems. The makeover includes a new AVLinkPro VOIP communication system, intercom and paging through Crestron HOME panels as well as telephones and more…

‍AVLinkPro Intercom Technology at ISE 2022
EVENT: Integrated Systems Europe
March 10-13th, Inside Crestron Booth: 3H300,3H400

AVLinkPro in partnership with Crestron Electronics bring communication and intercom to the Crestron HOME platform.
See first hand panel to panel communication, paging and more in the Crestron booth.
Integrating a whole house communication solution features many communication advantages for the Crestron smarthome environment.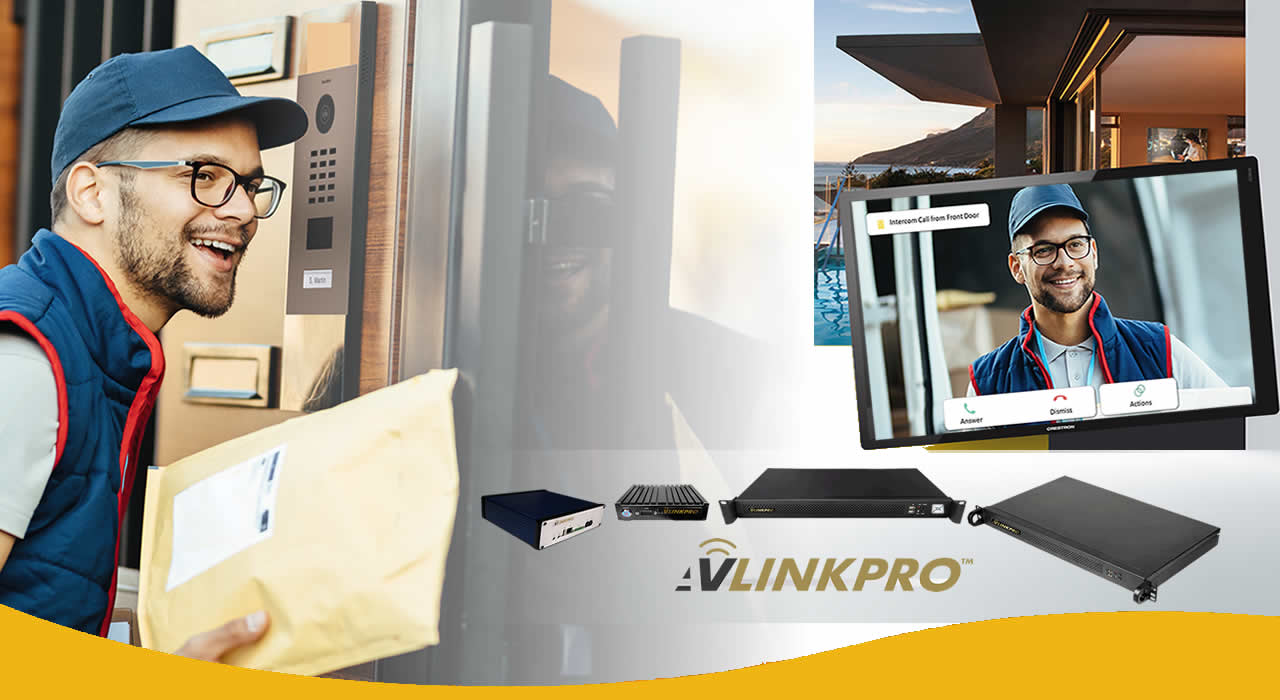 ‍Web presentation – Discover How DoorBird Intercom Can Work With Crestron HOME
EVENT: March 9th, 1:00PM Est. 2022 Webex Presentation

AVLinkPro in partnership with DoorBird and Crestron Electronics bring the best of all worlds together. Integrating a whole house communication solution is easy and features many communication advantages for the smarthome environment.
Smart Home Intercom Technology Is Modernizing Residential Communication Through Advanced Safety, Security and Convenience
September 1, 2021 – Fairfield, NJ
 
The advent of the new AVLinkPro SIP PBX bridge and software driver gives the Crestron Home user the ability to quickly and easily dial any other touch screen panel in the home, open door locks and gates and send audio announcements across other touch screens or over the whole house sound system all from a few taps on the screen. They also have the ability to monitor a room and speak hands free to any part of the residence. In addition, the aspect of telephone integration can provide quick dial buttons for pre-set speed dial to relatives or even to call 911.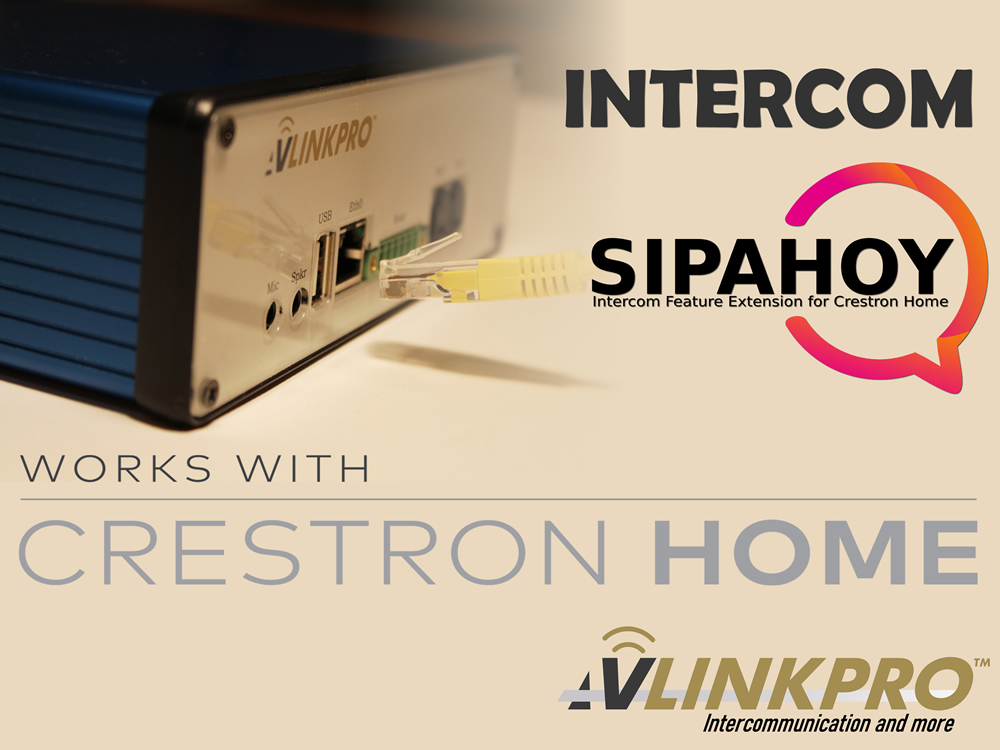 AVLinkPro Offers a New Intercom Driver for Crestron Home
May 17th, 2021 – Fairfield, NJ
 
AVLinkPro™ , a Crestron Electronics partner announces the release of a new interface extension for Crestron HOME. based on their newly released REST API. The new software extension, based on AVLinkPro's newly released REST API is called SIPAHOY.  It provides a new feature set to the Crestron HOME automation system providing intercom communication and control features for the popular residential smart home solution.
AV LinkPro Presents: Crestron Home Intercom with DoorBird
Virtual Event November 13th at 2:00PM EDT
Learn how to enhance intercom features in Crestron Home & have the ability to use DoorBird Video door stations. AV LinkPro will feature the new CH-100 SIP communication bridge, designed to offer advanced features for intercom and communication in a Crestron Home OS3 installation.  Experts from AV LinkPro, Crestron and DoorBird will be on hand. – Registration required – Click details below for more information.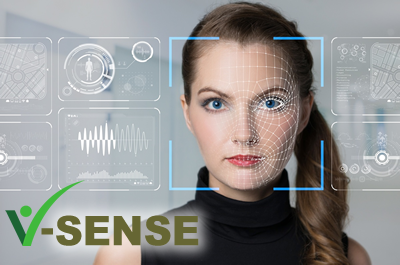 AV LinkPro Launches Intelligent Touch-less Intercom Solution for Covid-19 Safety
July. 27th, 2020 – Fairfield, NJ, U.S.A.
AV LinkPro, the maker of SIP audio / video intercom solutions launches the V-Sense, a new touch-less intercom add-on solution to complement existing manufacturer products. This contactless and hygenic solution combines the convenience of facial recognition technology and the automation of a voice activated system. This specialized technology works together with existing world class door intercom products from DoorBird, Aiphone, 2N, Holovision, Siedle, Came BPT and others by providing the added feature of touch-less human face call activation and intelligent voice attendant.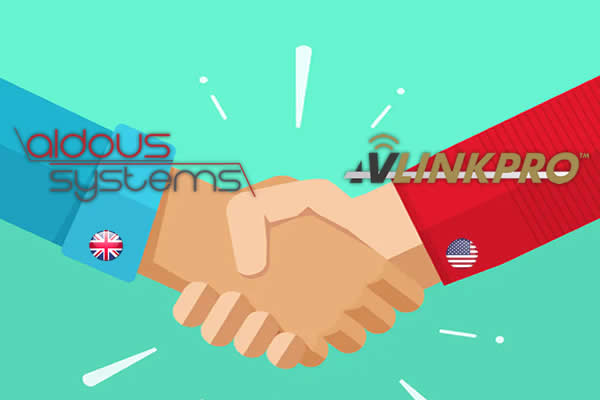 AV LinkPro to offer distribution with Partner in Europe Market
June. 25th, 2020 – Fairfield, NJ, Buckinghamshire, UK
AlltecPro has announced a strategic alliance with Aldous Systems (Europe) Ltd for business expansion and distribution of its AV LinkPro SIP PBX Bridge communications solutions in the United Kingdom. This alliance is part of the growing distribution partner network that AlltecPro is establishing in order to provide greater availability for their solutions worldwide. AlltecPro has also partnered with Crestron Latin to enhance the presence of AV LinkPro to Crestron dealers in Latin America.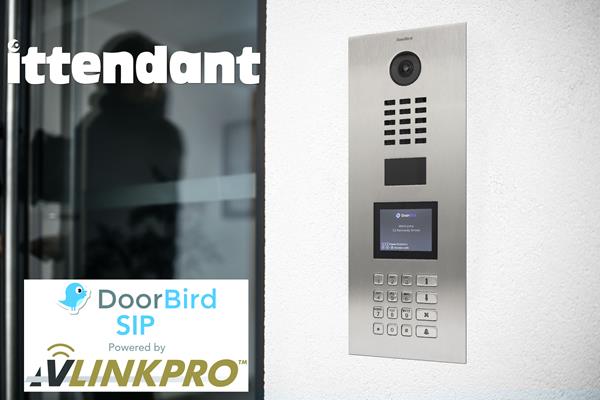 DoorBird Partners with AV LinkPro
December. 5th, 2019 – Fairfield, NJ
Bird Home Automation Group, a global leader in IP video intercom technology, today announced a partnership with SIP solution provider AV LinkPro™ from AlltecPro. Through this strategic partnership, Bird Home Automation now offers an easily deployed option for its DoorBird product line, specifically its MDU video intercom stations, to make calls to IP, cellular and landline phones.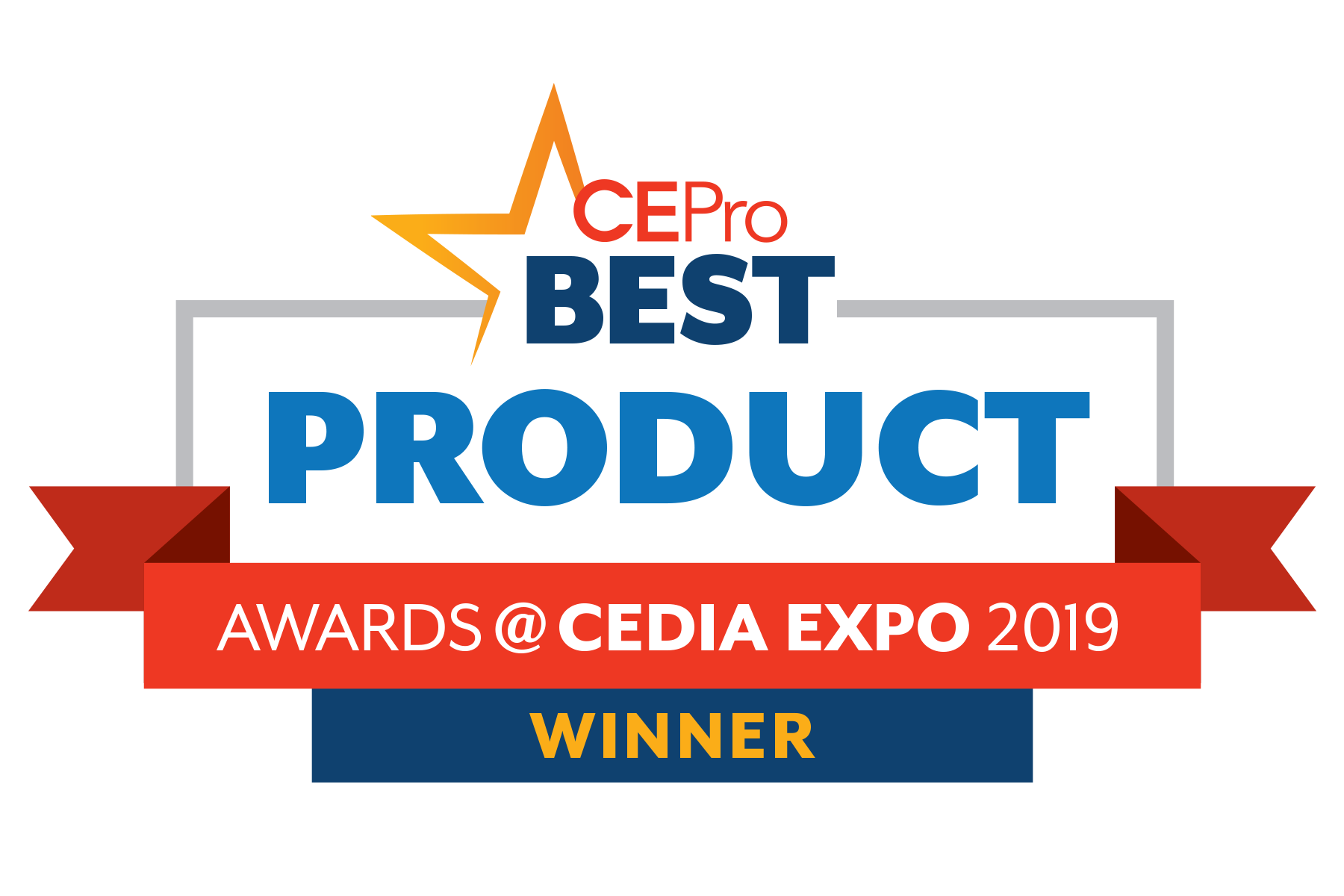 CEPro Names AV LinkPro as one of The 2019 BEST Product Award Winners at CEDIA Expo
September 12th, 2019 –  Denver, CO
Recognizing the most noteworthy new products and technologies, CE Pro is pleased to announce the winners of the 2019 CE Pro BEST (Best Electronics Systems Technologies) Product Awards. AV LinkPro™ Was chosen in the category of Household Enhancements/Installation communications accessory products for it's advanced functionality, innovation, competitive advantages and benefits to the installer.
Innovative Multiple Dwelling Unit Intercom System Recently Installed in New
York City by AV LinkPro™
August 14th, 2019 –  West Village, NYC
AlltecPro™ AV LinkPro™, a Crestron integration partner, has been behind the scenes enhancing the multi-tenant residential intercom world. The need for protection and communication in multiple tenant structures and communities has become essential in most urban settings. AV and security Integrators know that building and maintaining a reliable front door –to-suite intercom solution can be a daunting and complicated task, especially with connectivity to telephones and Crestron touch panels.
Catch AV LinkPro at The Sapphire Marketing Roashow in New York City
May 8th & 9th, 2019 –  Midtown Loft & Terrace, 267 5th Avenue
You'll be able to check out our AV LinkPro interface to Crestron Custom and Pyng OS2 systems connecting
ring, 2N, DoorBird, Aiphone Nest and more.  Find out how AV LinkPro enables Crestron Intercom. See how MDU video/audio intercom is most effective
and reliable with AV LinkPro.
Catch AV LinkPro at The Sapphire Marketing Roashow in Boston
April 24th & 25th, 2019 –  Boston Marriott Burlington – Burlington, MA
Check out our AV LinkPro interface to Crestron Custom and Pyng OS2 systems connecting
ring, 2N, DoorBird, Aiphone Nest and more. See how MDU video/audio intercom is most effective
and reliable with AV LinkPro.
Catch AV LinkPro at The Sapphire Marketing Roashow in Philadelphia
March 28th, 2019 – Crowne Plaza Philadelphia – King of Prussia, PA
Check out our AV LinkPro interface to Crestron Custom and Pyng OS2 systems connecting
ring, 2N, DoorBird, Nest and more.
AV LinkPro Will Be Featured at the Crestron Booth at ISE 2019
Fairfield, NJ, Jan. 29, 2019 (GLOBE NEWSWIRE) — AV LinkPro, a product of AlltecPro will be showcased at Crestron's booth at Integrated Systems Europe 2019 (ISE), located in Hall 2 Stand C20. Attendees will be able to see how AV LinkPro bridges the collaboration gap between a demonstration entry door camera and a Crestron touchscreen. AV LinkPro has partnered with Crestron to help elevate integrators ability to provide more connectivity when communicating with devices like the ring doorbell or the nest hello door station.
AV LinkPro, a Crestron Partner Helps Elite Pro Dealer Win Coveted 2018 North American Home Technology Award
Fairfield NJ, Dec. 11, 2018 (GLOBE NEWSWIRE) — Crestron Electronics, a world leader in home automation, recently announced the North American winners of their 2018-2019 Global Home Technology Awards. The award for best residential integration utilizing a Crestron Partner went to Restrepo Innovations of Paramus, New Jersey for their application using the AV LinkPro™ PBX Bridge on their Maplewood, New Jersey residential project. The unique system provided by AV LinkPro™ for this location is designed to allow audio and video intercom functionality throughout the residence and seamlessly integrate into the Crestron environment.
AlltecPro Installs Its Flagship AV LinkPro in the Crestron New York City Design Showroom
AV LinkPro Provides an Audio and Video Intercom Solution Integrating Crestron Touch Screens with Ring, Nest, 2N Helios, DoorBird, Siedle, Holovision, and Grandstream
Fairfield NJ, Aug. 28, 2018 (GLOBE NEWSWIRE) — The AV LinkPro™ is now on hand at the Crestron® Design Showroom in New York City. The AV LinkPro is the only SIP PBX audio and video intercom solution available for demonstration with Crestron's touch screens and control systems. The AV LinkPro system is being demonstrated as an application using door station cameras from Ring® and 2N® in conjunction with the Crestron ecosystem.
AlltecPro Becomes a Crestron Integrated Partner, Adds Reps, and Reveals Multi-City Road Show and Technology Summit Locations
Sapphire Marketing has been appointed as sales representatives for the AV LinkPro family of SIP Servers.
Fairfield, NJ, April 03, 2018 (GLOBE NEWSWIRE) — AlltecPro™ is now a Crestron Integrated Partner for its AV LinkPro™ family of SIP Communication Servers. Sapphire Marketing has been appointed to represent AV LinkPro solutions, which connect touch screens to cameras, telephones, Ring, Doorbird, 2N and other door stations.
AlltecPro™ Introduces AV LinkPro™ SIP Bridge Communication PBX Servers
Audio, Video, SIP, Multicast in one solution for connecting touch screens, door stations, cameras, and telephones to one simple bridge.
FAIRFIELD, N.J. (PRWEB) January 30, 2018
AlltecPro™ introduces two models of AV LinkPro™ SIP Bridge Communication PBX Servers. AV LinkPro systems deliver video and audio intercom functionality to SIP enabled displays and touch screens. AV LinkPro solutions provide people in homes or businesses with the ability to monitor and communicate with their door stations installed on the front door, gates, and all entries as well as provide an in home PBX with full function intercom and telephony features. AV LinkPro offers full HD audio and video integration allowing simultaneous paging and transmission of remote door station video and audio to multiple touch screens and displays.