AVLinkPro V-SENSE
Touch-less trigger and auto attendant for intercom, ideal for safety, security and the ability to automate entry way video intercom. Designed to integrate with most professional video door intercom systems and interconnect seamlessly to allow a fully touch-less intercom solution.
AVLinkPro CH-100
Simple Residential Premise SIP Bridge Controller, perfect for up to 8 devices. Integrates with smart home systems like Crestron Home  Allows for door intercom communication for a wide variety of brands and applications. a new micro sized solid state bridge link device that provides the connectivity in a simple format. Supports functions like paging and video intercom bridge. Also includes an onboard 2 pole dry contact relay.
AVLinkPro LP-200
Complete Residential Premise SIP Bridge Controller, ideal for up to 10 devices. Easily transcode video streams and interconnect systems with this micro sized solid state bridge device that operates silently and performs brilliantly.

AVLinkPro LP-360, LP-360-V and LP-360-X
The ideal communication mediator for most single residence installations or small multi dwelling units (MDU) for 20 devices plus. Our most popular, complete low profile Rack Mountable SIP Bridge controller with port expansion slot. The LP-360-X offers built-in features of our V-SENSE solution. The LP-360-X model delivers the additional added features of a full surveillance solution as well as Network Video Recording.
AVLinkPro LP-Rad
The AVLinkPro Radius is a Enterprise SIP/RTSP/TCP/IP bridge that allows for medium and large installations such as Multiple Unit Dwellings and campuses. With full connectivity and adequate expansion take advantage of video intercom, SIP connected communications, Cross platform control and seamless integration.
AVLinkPro CLIO+ PoE Network Switch
The AVLinkPro CLIO Series PoE Gigabit Network Switch provides a manageable solution for Multiple Unit Dwelling installations where dual network topologies are needed. Robust connectivity with fully PoE + ports as well as VLAN management and web based management for a seamless integration.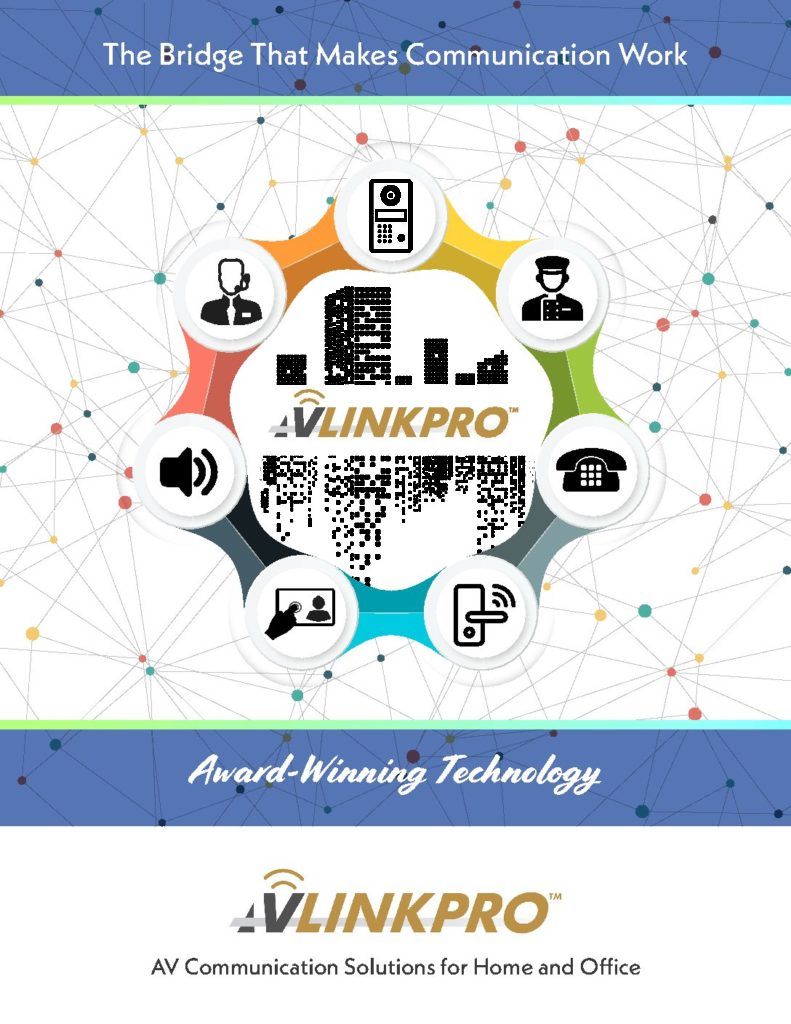 Specifications

CH-100

Micro Controller

LP-200

Mini Controller

LP-360 RM

1U Slim Controller

LP-360 RM -V

1U Slim Controller

LP-360 RM-X

1U Slim Controller

Radius Pro

2U RM Controller

CH-100
LP-200RNO
LP-360-RM
LP-360-RM-V
LP-360-RM-X
LP-RAD-PRO
Included Device Licenses

10* Channels maximum

15* Channels maximum

20* Initial Channels

(expandable license packs available to 1000)

20* Initial Channels

(expandable license packs available to 1000)

20* Initial Channels

(expandable license packs available to 1000)

50* Initial Channels plus

(expandable license packs available to 5000)

Application

Residential installation with 1-2 entry intercom and 1-7 touch screen panels

Residential /Commercial installation with 2-5 entry intercom and 2-10 touch screen panels. Telephone bridge integration capable.

Larger Residential /Commercial installation with 2-5 entry intercom and 2-100 touch screen panels. Telephone integration capable.

Larger Residential /Commercial installation with 2-5 entry intercom and 2-100 touch screen panels. Telephone integration capable.

Larger Residential /Commercial installation with 2-5 entry intercom and 2-100 touch screen panels. Telephone integration capable. Surveillance and DVR built-in solution

Multi-Tenant Residential /Commercial Enterprise installation with 1-20 entry intercom and 1-1000+ touch screen panels or end points. Telephone integration capable.

Technology

AVLinkPro, PBX

AVLinkPro, PBX, AES67

AVLinkPro, PBX AES67, Expandable

AVLinkPro, PBX V-SENSE, AES67

AVLinkPro, V-SENSE,PBX, ZoneMinder

AVLinkPro, V-SSENSE, PBX, AES67

Integration

Crestron SIMPL Home

Crestron SIMPL, Home+ Others

Crestron SIMPL, Home + Others

Crestron SIMPL+ Others

Crestron SIMPL+ Others

Crestron SIMPL+ Others

Internal Storage

8GB Solid State

120GB Solid State

120GB Solid State

120GB Solid State

120GB + 1TB Solid State

Dual 120GB Solid State Raid 1

Expansion

N/A

N/A

Slot for addon up to




4FXS / 4FXO|




Dante Audio Card

Slot for addon up to




4FXS / 4FXO|




Dante Audio Card

Slot for addon up to




4FXS / 4FXO|




Dante Audio Card

3 Slots for add-on
up to 24 ports each
Dante Audio Card

Audio In/Out

N/A

2.1 Mini Jack

2.1/5.1 Mini Jacks

2.1/5.1 Mini Jacks

2.1/5.1 Mini Jacks

2.1/5.1 Mini Jacks

RJ45 Ports

1x 10/100/1000

2x 10/100/1000

2x 10/100/1000

2x 10/100/1000

2x 10/100/1000

2x 10/100/1000

RS-232 Ports

1x USB

1x RS232, 2 USB

1x RS232 1xRS232/422/485, 3xUSB

1x RS232 1xRS232/422/485, 3xUSB

1x RS232 1XRS232/422/485 3xUSB

1x RS232 1xRS232/422/485

Dimensions

5.01 x 5.55" x 1.24"

5.07" x 4.29" x 1.33"

19.00" x 1.75" x 11.12"

19.00" x 1.75" x 11.12"

19.00" x 1.75" x 11.12"

19.00" x 3.5" x 20.80"

Voltage

48V

110/240VAC

110/250VAC

110/250VAC

110/250VAC

110/250VAC

Power Supply

POE +

12V AC

12V AC 220Watt

12V AC 220Watt

12V AC 220Watt

12V AC 460Watt

2 x (redundant hot pluggable)

Mounting

Micro Stand Alone optional mount

Micro

Stand Alone or Wall/DIN Mount

1U Rack Mountable with Ears

1U Rack Mountable with Ears

1U Rack Mountable with Ears

2U Rack Mountable with Ears