AVLinkProtm enables intercom communication for Crestron's latest platforms 
AVlinkProtm systems enable True Intercom communication, paging and advanced integration for all Crestron Electronics ecosystems 
CRESTRON CUSTOM INTEGRATION
AVlinkProtm provides multiple benefits to Crestron Custom integrations. Take advantage of our Crestron discovery system that finds and assigns RAVA SIP configurations to each Crestron Panel. Crestron 2/3/4 series installations can have full integration to the largest selection of professional video intercom brands. AVlinkProtm will enable full featured intercom to unlimited panels. Paging to panels, zones over analog or digital audio. Send door intercom video to DM NVX systems to see who is at the door on the large screen TV. Integrate the home telephone right into the communication system and make and receive phone calls on a Crestron touch screen. AVLinkProtm can even provide video intercom over the custom Crestron APP.                               
CRESTRON HOME INTEGRATION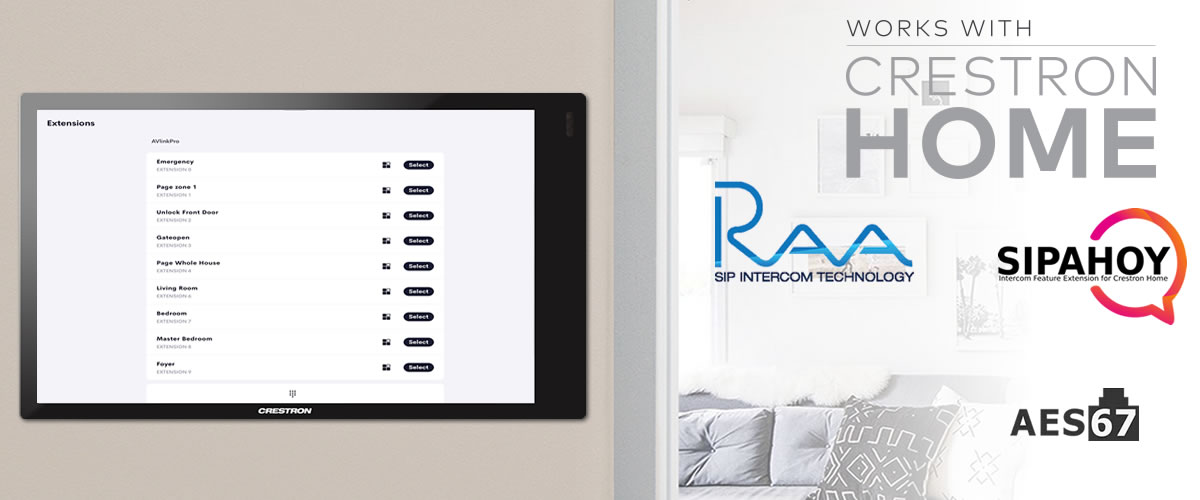 AVlinkProtm provides multiple intercom and communication benefits to Crestron HOME integrations. Our simply to use Crestron discovery system finds and assigns RAVA SIP configurations to each Crestron Panel. Add on our SIPAHOY intercom Extension for Crestron HOME and enable the worlds leading residential smart home control system to have full features panel to panel intercom, selective paging options and telephone integration and more. Crestron 4R series installations can have full integration to the largest selection of professional video intercom brands using AVlinkProtm.
Experience AVLinkPro at the Crestron Showroom in New York City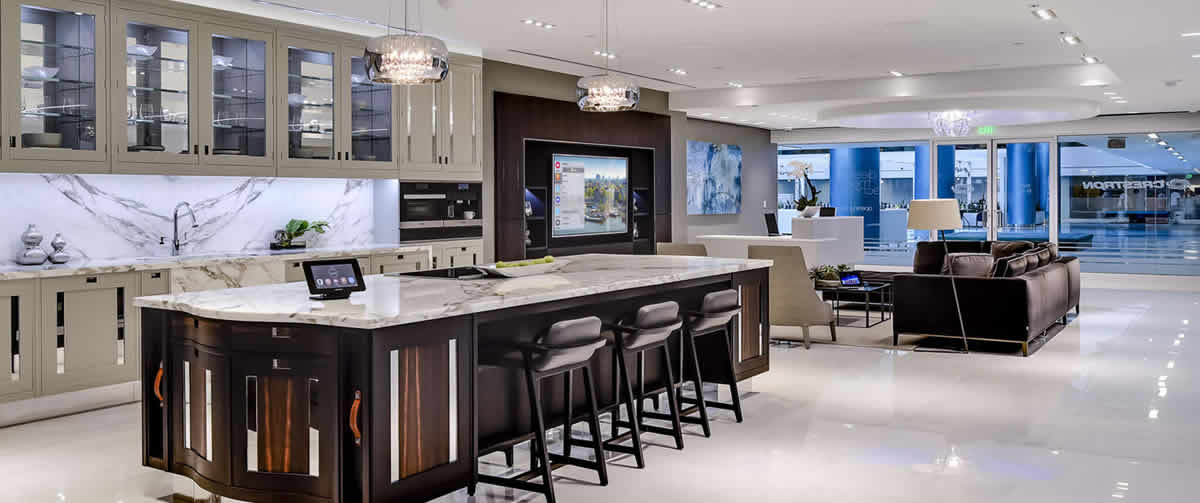 Experience AVLinkPro at the Crestron Showroom in Ft. Lauderdale, Florida
AVlinkProtm provides a true video intercom communication solution for all Crestron environments.  Our systems enable enhancements to Crestron Ecosystems providing advanced connectivity, video streaming and diverse interoperability previously not possible. No other intercom or door station system alone can provide the wide array of features and benefits that only AVlinkProtm can deliver. By adding the support of an AVlinkProtm system, you will add the following benefits to a Crestron ecosystem.
We don't make intercom systems, we make intercom and premise communication systems better!
Now easily discovers Crestron touch screens with one click management
Allows for choice of video door intercom brand: DoorBird, Aiphone, Holovision, Siedle, Came BPT, 2N,Mobotix & more…
Captures RTSP video streams and renders them into SIP audio and video
Enhanced RAVA SIP intercom features (Allowing panel to panel and intercom paging)*
Superior intercom paging and audio prompting (Custom ring tones and sounds)
MDU Capabilities with unlimited endpoints goes beyond limits of RAVA and other systems (No limit to number of panels)
Full usage of Crestron endpoints (Enhances features eg: ability to make and receive phone calls)*
Event trigger and actuation capabilities (Trigger actions on Crestron DM or NVX)
One to many video intercom functions (Group broadcast and multi-cast)
Intercom/Touchscreen group control (Choose what Crestron devices are part of intercom group)
Intercom/Touchscreen time of day routing and do not disturb functions (Programmable opt-in/out)
Open audio/ Open Mic paging (Enabling paging throughout with hands free response)
Operates in LAN, VLAN or Subnet networks (Provides a secure way to communicate)
Full system broadcast features (Page or stream to other parts of your ecosystem)*
Message recording features (Voicemail and video voicemail available)
New Intelligent Voice Attendant now available on every AV LinkPro system

Crestron specific systems presets (Built in specific templates and auto provisioning tools)
Transcoded video streaming in multiple output formats (Send video out through HDMI or IP)
Offers telephony interface options for Crestron Ecosystems (Add it to the residence phone system)
Works with Natively with Series 2, Series 3, Pyng OS2 & Crestron Home
Our recently released SIPAHOY Extension package  adds many new communication features to Crestron Home  
AVlinkProtm is proud to be a Certified Crestron Integration Partner
* AVLINKPRO and Crestron are working to enhance many features for new upcoming operating environments
                     Find us on the Crestron partner page here
  Video examples can be found here:
Crestron Home Integration Diagram Examples
AVLinkPro™ MDU Crestron Home Intercom Enhanced Integration using LP-360 or LP-RAD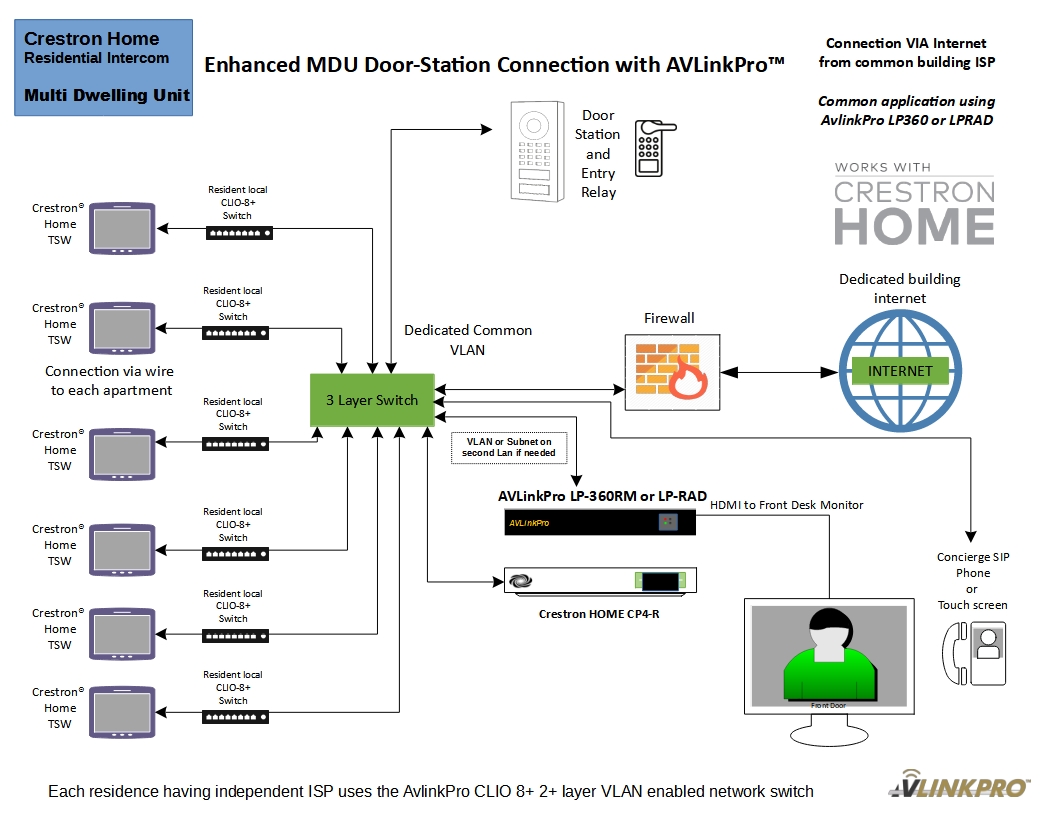 Crestron Deployment Is Easier Than Ever!
Check out this simple short video: